how to make homemade crispy french fries in the oven
Share
Issue Time

Feb 16,2020
Summary
Here are the steps to making crispy french fries at home that are baked. First though, I recommend using Yukon gold potatoes because they have a lower starch content.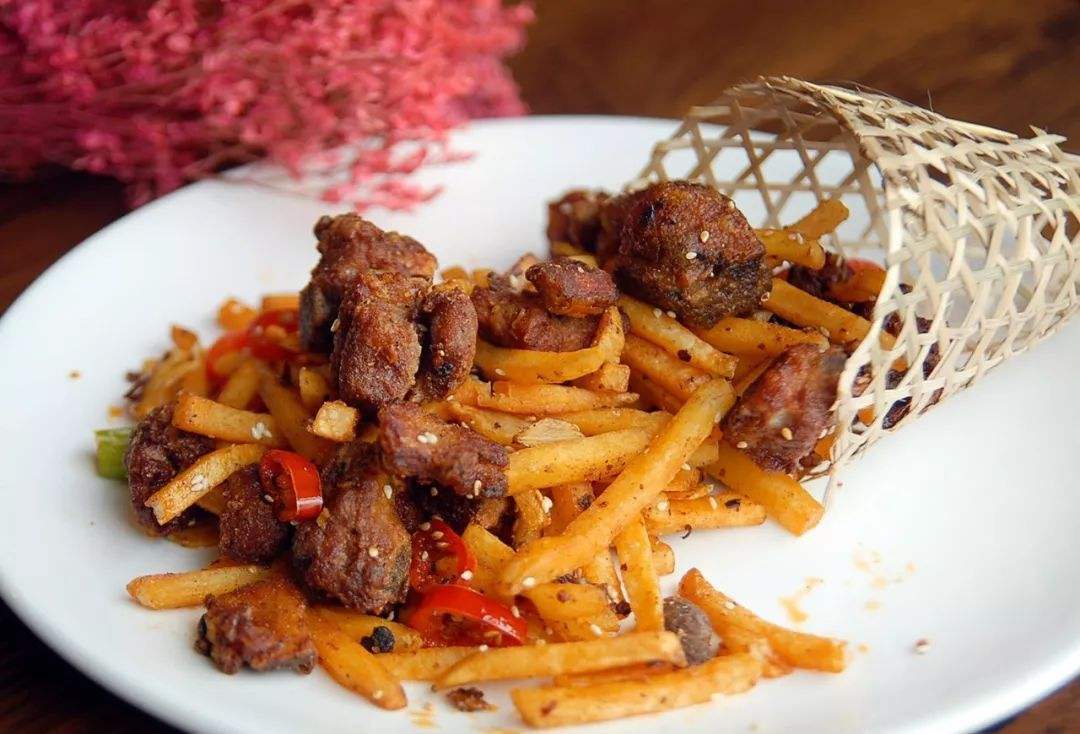 Here are the steps to making crispy french fries at home that are baked. First though, I recommend using Yukon gold potatoes because they have a lower starch content.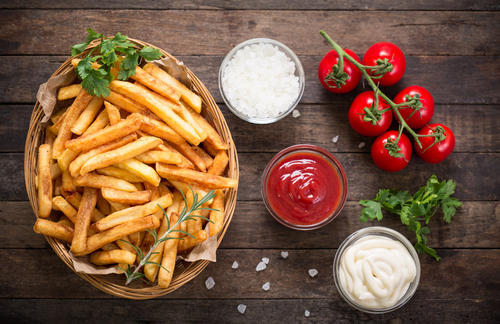 1.Cut the potatoes into your preferred cut (see most popular cut sizes and how to's below).
2.As you cut potatoes, place them directly into cold water. Once all potatoes are cut, drain water and refill with more cold water.
3.Add 3 tablespoons of sea salt to water. Stir and let sit for 30 mins. Drain and then pat dry using paper towels.
4.Preheat oven to 425℉. Line 2 large cookie sheets with tin foil.
5.Place dried potato slices into a large bowl. Drizzle with oil and sprinkle with garlic powder. Toss well.
6.Divide potato slices among cookie sheets in a single layer making sure to not over crowd the cookie sheets.
7.Bake steak cut fries for 25-30 mins or until desired crispiness. Halfway through baking turn potato slices over using a spatula.
8.Lightly salt and pepper if desired.
Pro Tip: The cold soak removes excess starch and the salt bath helps the French fries to crisp up. 3 tbsp of Sugar may be substituted if sodium is a concern.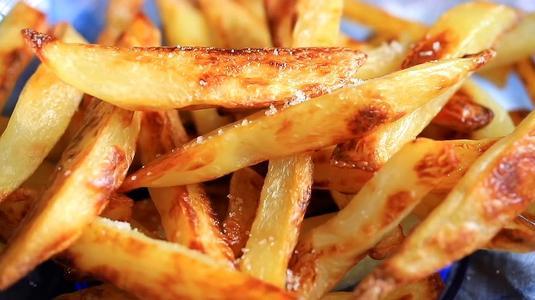 how to make the three most popular french fry cuts
standard cut french fries
Standard cut French fries are the cut that most restaurants serve. They are easiest to make using this tool. For the fries to become golden and crispy it will take about 20- 25 minutes at 425℉. Just remember to place the cut, soaked and dried potatoes in a single layer and don't over crowd the pan. These two steps will ensure a golden crispness.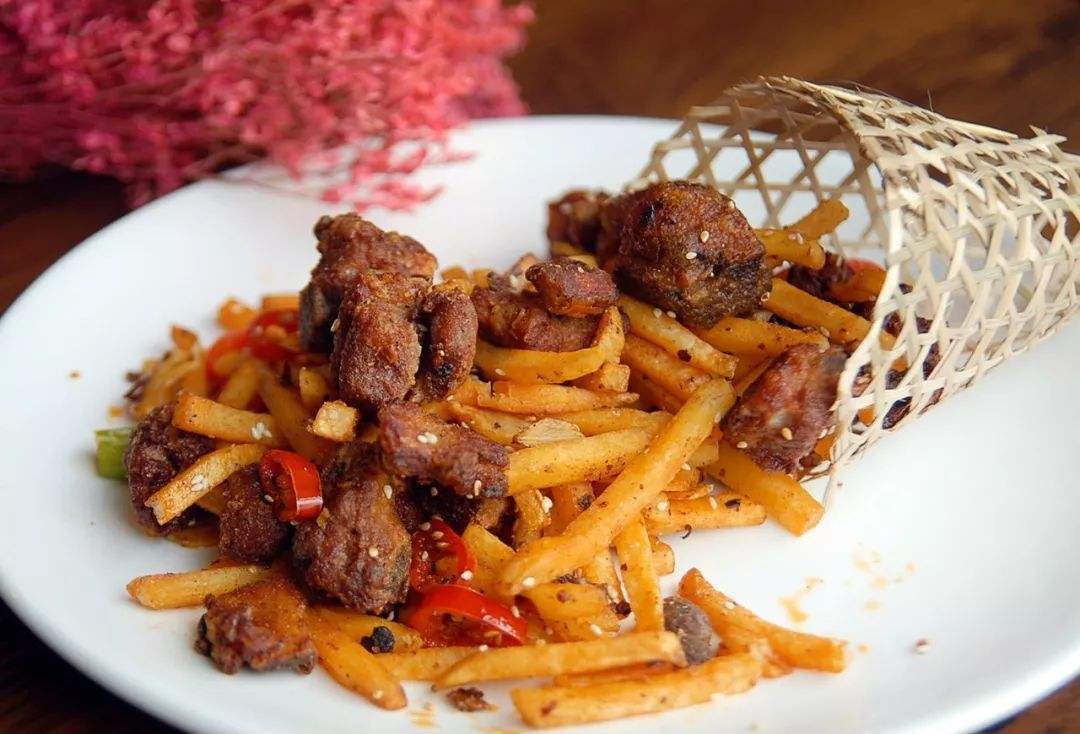 shoestring french fries
As the name implies, this cut of fry is as thin as a shoestring and the same tool that was used for achieving the standard cut can also be used for this cut. However, if you really love shoestring fries, this cutter is more appropriate.
The same couple tips apply for these once the fries are cut, soaked and dried. Make sure not to over crowd the pans and lay the fries in a single layer on a pan. As long as they have a enough air to circulate around them, the fries should only take 15- 20 minutes at 425℉.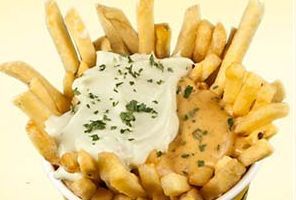 steak cut french fries
Steak cut fries are what is seen in the photos for this recipe. They don't need fancy equipment to make, just a good quality knife. All the same rules apply for this cut. After cutting, soaking and drying make sure to place in a single layer and to not crowd the pan. Steak cut fries will take about 25-30 minutes in a 425℉ oven.
Pro Tip: Some types of potatoes may take up to 50 mins to bake.
commonly asked questions about making these crispy french fries
are french fries gluten free?
No, not all french fries are gluten free because many are coated in a flour mixture. It is best to read labels and or recipes carefully especially if you are a celiac.
The good news is that these Homemade French Fries are gluten free.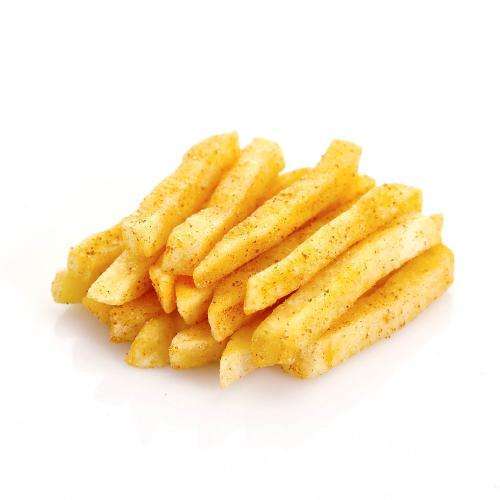 Very similarly to the first question, it is wise to carefully read labels or ask when dining out. Some higher end restaurants will use animal fat as the end product is very appealing to most.
For these baked fries, I recommend using avocado oil, so yes, they are vegan.
is there a certain potato that is best for making homemade baked french fries?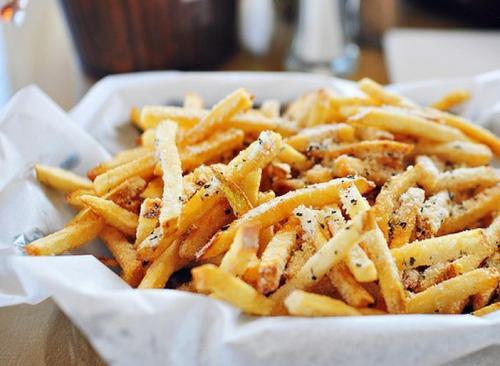 This is such a great question and the answer really depends on your personal preference. I love using Yukon Gold potatoes for making homemade French fries as they tend to have a creamier texture and lower starch content than that of russet potatoes.
Many still prefer russet potatoes over Yukons but for me personally, I'll save the russets for twice baked potatoes.