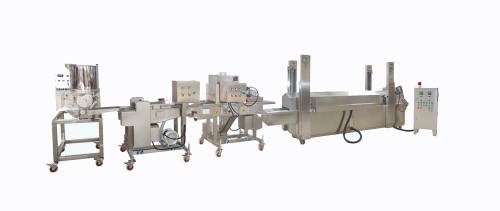 Chicken nugget and patty solution 50-1000kg
Description
Large Medium Size Automatic Hamburger Patty Chicken Nuggets Production line
This production line can automatically realize the forming,predusting(flouring),battering and breading for meat,poultry,seafood and vegetables.It can be used together with fryer,cooker,freezer and packing machine to produce the high value-added product to meet market demand.The following is the main product's process.
Forming machine---batter spraying machine---predusting machine---breading machine---frying machine

Forming machine can automatically finish the procedure of filling, forming,and output.It can be used together with the battering machine,flouring(predusting)machine,frying machine boiler,freezer and packing machine to make the hamburger patty,chicken nuggets,chicken fillet,fish steak and so on.
Made o f stainless steel which is safe and accord with HACCP standard requirement.
Name:
Battering Spraying Machine
Through batter slurry curtain and batter groove below,battering spraying machine can offer a even coating of the batter on the chicken,beef,pork,fish and other seafood products.
Fast-combine design,easy to clean and less damage to the viscosity of the batter.
Because of small paste for the batter conveyor, the batter pump is of low damage degree fr slurry's viscosity.
Name:
Tempura Battering machine
Tempura battering machine realized the batter coating by dipping the products into the battering bath.It is widely used in the tempura products,meat ,poultry,seafood and vegetables,Get CE certificate.
Name:
Predusting(Floouring) Machine
It is specially designed for coating food processing.It processing. It coats the bottom of the products by the layer of the flour on the conveying belt and coats the surface of the products by the upper flour evenly to the passing products on the belt.It can connect to battering machines, breading machine to connect production line for different foods.
Breading machine coats bread crumbs onto the chicken,beef,meat and seafood.the top layer of breading crumbs is from the hopper and the bottom layer is coated when the food pass through the mesh belt.