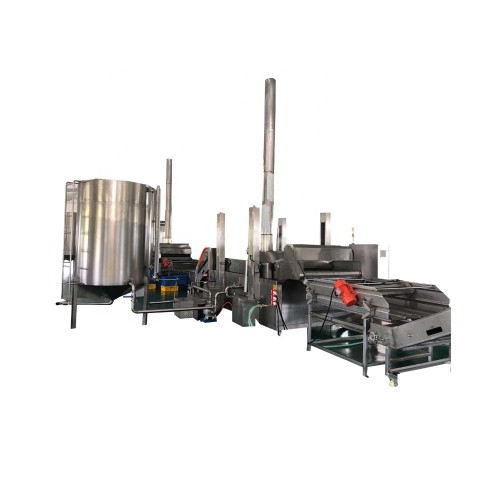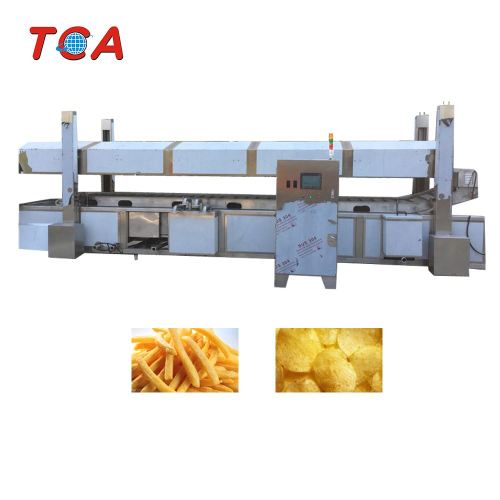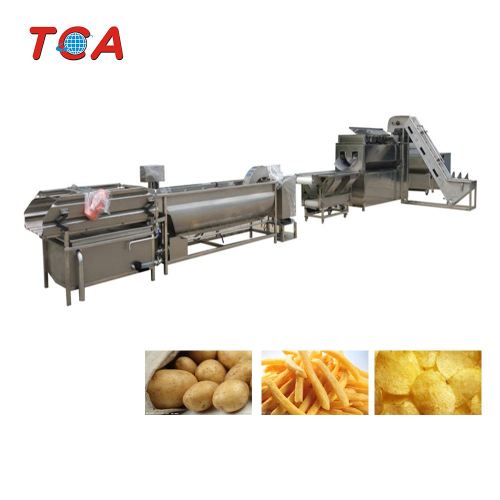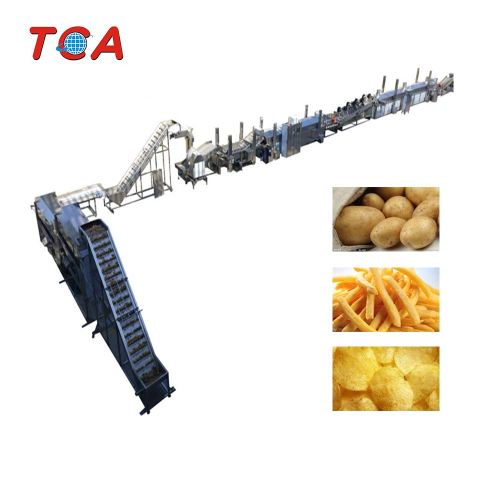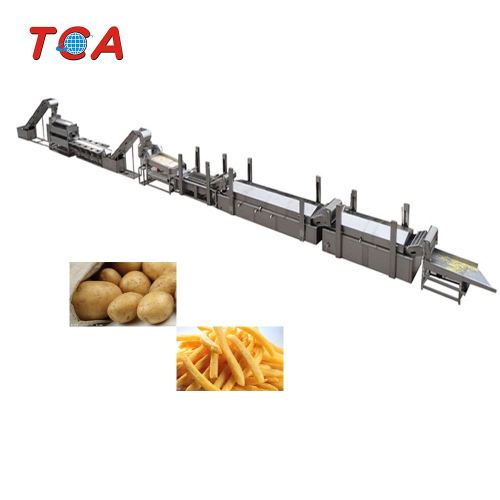 500kg/h Automatic potato chips machine potato chip frying machine
Description
Automatic potato chips and french fries processing line
Washing-washing peeling-picking line-cutter-vibrating-washing-blanching-vibrating dewater-drying line-vibrating deoil-cooling-seasoning line(freezer for french fries)-packing line
Washing peeling machine
This machine is used to peel with stone brusher and hard brusher, it can peel completely;
The roller and stone brusher speed can be adjusted

This machine is used to peel with stone brusher and hard brusher, it can peel completely; Uneven and corrugated brush can peel the potatoes completely;

Picking line
It has two function: one is picking line to pick out the potato with peel and make it return to washing peeling machine.
All material is Stainless steel.

French fries cutter
This machine is used to cut potatoes into sticks.
it can cut potato, sweet potato, taro into sticks.
It is smooth in surface and cut in fast speed.
Easy to wash and easy to operate.
Save labor and cost.

Washing machine
Washing time is 30-40s; Washing process is for washing off the potato starch on the potato chips which can keep it from fall in the oil and keep long-use life for the frying machine. it can wash off the sugar on the surface of the chips then it can keep the oil from turning bad and keep a long using life.
At the same time, French fries is totally immersed in water which can keep it from enzymatic-oxydative browning;

Blanching machine
Blanching is a necessary procedure. After washing, the potato sticks go into the blanching machine. It can destroy the enzyme activity, and

Frying machine
1, model:XDL-5500×800.
2, finished product: French fries
4, mesh belt's width: 800mm
5. all material is sus304

Zhucheng Xinxudong Machinery Co.,Ltd
Zhucheng xinxudong machinery Co.Ltd is a professional global supplier of food industry equipment. Company is focused on R&D manufacturing and sales of food industry equipmanet including processing line for snacks,frozen french friesm potato chis,meat food ,cake baking,cegetable processing line to out customers,corn pocessing. Company's products have been certified by CE and ISO900(1)-2000 intemational quality management system certification, and in accordance with the QS standard food enterprise.