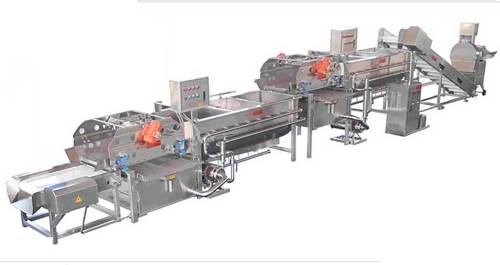 Vegetable processing solution
Description
Frozen Vegetable/ Fruits vegetable blanching machine

It is a complete line for different various types of vegetable and fruits such as potato cube, carrots cube, green beans, cauliflower, onion, strawberry, cherry and so on.

Capacity: from 200kgh to 3000kgh

A complete line from washing blanching to the freezer and packaging.
Frozen Potato or carrots
Washing peeling--Cutting--Washing-Blanching-Cooling-Dewater-IQF-Packaging
Frozen Green Peas
Peeling--Washing--Blanching-Cooling-Dewater-IQF-Packaging
Frozen fruits, onion, green beans
Washing--Cutting--Washing-- .Dewater-IQF-Packaging
CE certificate, ISO certificate, COC certificate and so on.
Apply for different certificates based on customer requirement
Customers from different countries come to our factory for visiting the processing machinery.
We can show customer the details, video and photos of our machines
Testing the machines before delivery
Customers can come to our factory for testing his line and also check the machines for delivery
Every year we attend different exhibitions in Thailand, Indonesia, India, America, Brazi, Egypt, Algeria, Sudan, Dubai, and so on.
Discuss the details face to face.