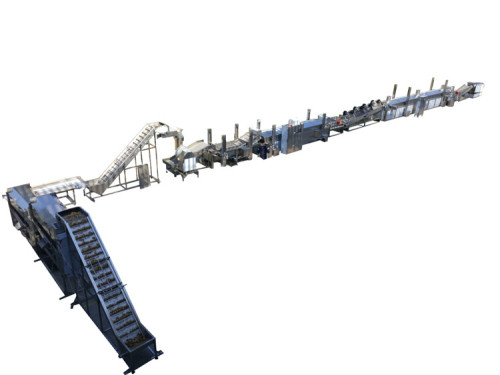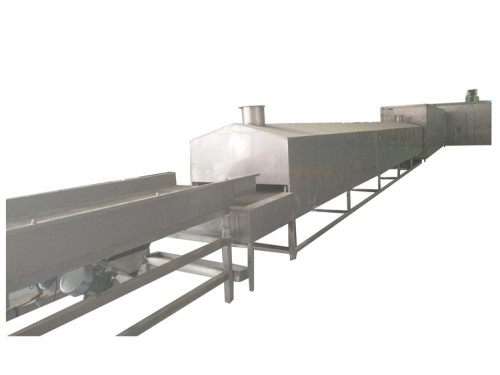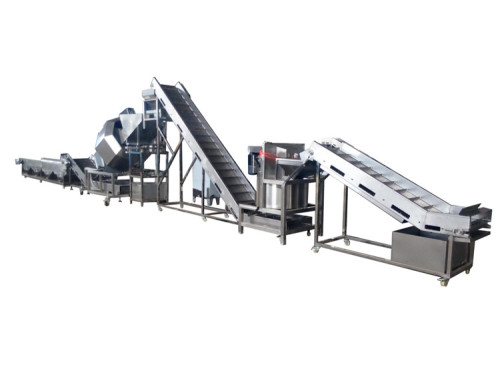 Frozen French Fries Production Line
Description
Automatic frozen french fries production line
Washing-washing peeling-picking line-cutter-vibrating-washing-blanching-vibrating dewater-drying line-vibrating deoil-cooling-freezer for french fries-automatic weighing packing machine
Heating methord: Gas, diesel, Electrical, Steam
Material:SUS304 stainless steel, special parts: SUS316 and SUS310S
Electrical elements: SEIMENS, OMRON, SCHNEIDER, MITSUBISHI,
Gas/diesel burner: BALTUR
Output capacity: 100-6000kg/h as customer's demands.
Washing peeling machine
This machine is used to peel with stone brusher and hard brusher, it can peel completely;
The roller and stone brusher speed can be adjusted

This machine is used to peel with stone brusher and hard brusher, it can peel completely; Uneven and corrugated brush can peel the potatoes completely;

French fries cutter
This machine is used to cut potatoes into sticks.

it can cut potato, sweet potato, taro into sticks.

It is smooth in surface and cut in fast speed.

Easy to wash and easy to operate.

Save labor and cost.

Blanching machine

Blanching is a necessary procedure. After washing, the potato sticks go into the blanching machine. It can destroy the enzyme activity, and improve the organizational structure.

Continuous Frying System
Frying system we adopt continuous flash fry french fries high efficiently.
Heating methord: gas, electrical, diesel
Material:SUS304 stainless steel
Capcity: 300-2000kg/h
Frying time: 30-60s
Function: hoisting system, sediments scrappying system, oil filter, oil tank, control system, belt conveying system...
IQF Quick Freezer
For individual quick freezing french fries, we adopt IQF fluidized quick freezer.
It including 5 parts for the whole system: 1-Precooling tunnel. 2-Quick freezing tunnel. 3-Precooling chiller. 4-Quick freezing chiller. 5-Connecting pipes and valves between tunnels and quick freezers.
Insulation PU board thickness: 150mm which double covered by SUS304 stainless steel, thickness: 0.8/0.5mm.
Automatic weighing packing machine
This machine is used to automatic weigh and packing the frozen french fries high efficienlty.
1.Multi-head weight: 10/14-heads
2.Automatic film type making bag
3.With printing function for batch no. and dates.
4.Save running cost.